Working with St.Martins senior citizens in Lambeth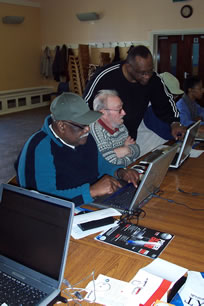 Family Friends Digital Inclusion Project, which supports 50plus groups to overcome their fears of digital technology.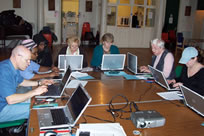 St. John's, Clapham, London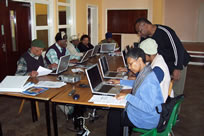 To see more visit familyfriendsworkshop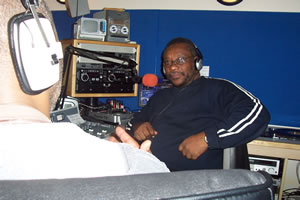 Volney Harris (aka Duke Ozzie)
Studio Manager and Programme Controller,
TLS Radio (101.4) FM
Email: volneyharris@msn.com
Studio: 0207 652 8195, Mobile: 07768 003538
Family Friends, 34 Brixton Water Lane, Brixton, London SW2 1PE, Molly Evans, Director of Operations
Tel: Office 0207 274 4295
.Listen to us on:-
www.tlsradio.net & www.teenlifestyle.net
We are working on other programmes look at : www.echoesofthepast.co.uk
& www.youthhub.co.uk
Biography
1969-1980 - Performing artist , appearences on Television shows including:- Caronation street, My Old Man, Red Letter Day, XYY MAN, Brass Tacks, Crown court, Peoples Parliment.
1974 -1979 -Broadcasting with BBC Radio, Pennine Radio, & other local & national radio stations
1980- 1985 - Security Management, New York, USA.
1985 - 2000 - Chief Executive, Director, Agency for Economic Development, Ltd.
Overview of professional activities
2000 - 2003 - Chief Executive Director,Moss Side & Hulme Agency for Economic Development
2000 - 2003 - Chief Executive, MossSide & Hulme Economic Agency
1985 - 2002 -Executive Director, AEDTraining Trust,
1999 - 2003 - Director, Moss Side & Hulme Community Development Trust
2003 - present- Family Friends - Studio manager, Programme Controller & Trainer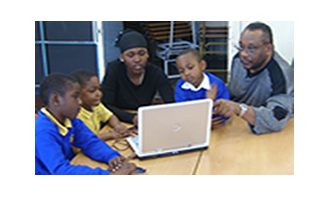 working with schools
Edited recordings from the Echoes of the past Broadcasts
Play Interview-1 -D.Campbell
Play Interview-2 -G.Blackwood
For more information visit the site
Professional Activities :
Project Management support & consultancy advice to organisations dealing with innercity, transnational & international projects and programmes.
The provision of advice on, fund raising, small business development & the creation of radio productions for FM & AM broadcasts. Delivering training in I.T, Radio Production skills, media and music production creation.
Professional Qualifications:
BA - Business Studies
MEd - (Masters)-Management & Training Development
Internal Verifier & Assessor - NVQ & AQA
Professional Memberships
MCIPD - Member of Chartered Institute of Personnel and Development
MIBA - Member of the Institute of Business Advisors